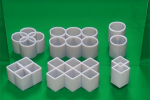 Created by Kokichi Sugihara, a math professor at Meiji University in Tokyo, the "Ambiguous Cylinder Illusion" wowed audiences at "the Best Illusion of the Year Contest" in 2016. Here's the general gist of the illusion:
The direct views of the objects and their mirror images generate quite different interpretations of the 3D shapes. They look like vertical cylinders, but their sections appear to be different; in one view they appear to be rectangles, while in the other view they appear to be circles. We cannot correct our interpretations although we logically know that they come from the same objects. Even if the object is rotated in front of a viewer, it is difficult to understand the true shape of the object, and thus the illusion does not disappear.
So how do those rectangles look like circles, and vice-versa? The video below–if you care to spoil the illusion–will show you. Find more videos from the Illusion Contest here.
Follow Open Culture on Facebook, Twitter, Instagram, Google Plus, and Flipboard and share intelligent media with your friends. Or better yet, sign up for our daily email and get a daily dose of Open Culture in your inbox. To make sure that our posts definitely appear in your Facebook newsfeed, just follow these simple steps.
If you'd like to help support Open Culture, please consider making a small monthly donation to our site. We would greatly appreciate it!
Behold the Ingenious "Ambiguous Cylinder Illusion" (and Then Find Out How It Works) is a post from: Open Culture. Follow us on Facebook, Twitter, and Google Plus, or get our Daily Email. And don't miss our big collections of Free Online Courses, Free Online Movies, Free eBooks, Free Audio Books, Free Foreign Language Lessons, and MOOCs.
0