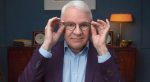 Can comedy be taught? The question has no clear answer, but if it can, Steve Martin would surely occupy the highest rank of comedy teachers. He could probably teach a fair few other crafts as well: besides his achievements as an innovator in stand-up as well as in other forms of comedy — famously appearing on Saturday Night Live so many times that even some of his fans mistake him for a regular cast member — he's also established himself as an actor, as an essayist and novelist, and even as a respected bluegrass banjo player. Still, despite his impressive artistic Renaissance-man credentials many of us, at the mere mention of Steve Martin's name, laugh almost reflexively.
Hence his place at the front and center of "Steve Martin Teaches Comedy," a new online course from Masterclass, the education startup whose faculty roster, as we've previously featured, also includes the likes of Werner Herzog and Aaron Sorkin. "We're going to talk about a lot of things," says Martin in the course's trailer above. "We're going to talk about my specific process, performing comedy, we're going to talk about writing." For a cost of $90, Masterclass provides more than 25 video lessons, a downloadable workbook with supplemental lesson materials, and an opportunity to upload your own material for critiques by the rest of the class as well as maybe — just maybe — by Martin himself.
Whether or not a master comedian can pass along his knowledge as a math or a language teacher can, anyone who's paid attention to Martin's comedy so far, as well as his reflections on comedy, can sense how much intellectual energy he's put into figuring it all out, even at its extremes of absurdity, for himself. Students unwilling to follow suit need not apply, nor those worried about landing agents and getting headshots, for the esteemed instructor makes it clear up front that he grapples only with the most important question in comedy, as in life: "How do I be good?" You can sign up here.
Note: If you want to hear Steve Martin narrate his memoir, Born Standing Up: A Comic's Life, you can always sign up for Audible.com's 30-day free trial, and download it for free. (Everyone who signs up for a free trial with Audible gets two free audiobooks. Get more info on the free trial here.)
Related Content:
Steve Martin & Robin Williams Riff on Math, Physics, Einstein & Picasso in a Heady Comedy Routine (2002)
Steve Martin on the Legendary Bluegrass Musician Earl Scruggs
Steve Martin Writes a Hymn for Hymn-Less Atheists
Steve Martin, "Home Crafts Expert," Explains the Art of Paper Wadding, Endorses Bob Kerrey
Steve Martin Releases Bluegrass Album/Animated Video
Based in Seoul, Colin Marshall writes and broadcasts on cities and culture. He's at work on a book about Los Angeles, A Los Angeles Primer, the video series The City in Cinema, the crowdfunded journalism project Where Is the City of the Future?, and the Los Angeles Review of Books' Korea Blog. Follow him on Twitter at @colinmarshall or on Facebook.
Steve Martin Will Teach His First Online Course on Comedy is a post from: Open Culture. Follow us on Facebook, Twitter, and Google Plus, or get our Daily Email. And don't miss our big collections of Free Online Courses, Free Online Movies, Free eBooks, Free Audio Books, Free Foreign Language Lessons, and MOOCs.
0